Making Queer Love: A Kit of Odds and Ends
Melissa Rogers
University of Maryland
---
About this Kit
"A Kit of Odds and Ends" explores craft practices, specifically embroidery and cross-stitch, as a form of queer feminist lovemaking capable of cobbling together complex social worlds. The kit, which consists of thrifted and salvaged embroidery hoops and floss, fabric, needles, and notions, will be mailed to strangers and friends accompanied by a series of original patterns as well as a love letter to queer feminist crafters. The kit's production and distribution creates a gift economy resembling those that comprise do-it-yourself (DIY) subcultures; in doing so, it also attempts to stitch together an intimate counterpublic of loosely connected networks of solidarity, friendship, and affection. The essay, "Making (Queer) Love," documents the process in detail using digital photography, short video, and social media, theorizing lovemaking as a framework for queering not only consumer kits, but also craft itself. Drawing on the work of fiber artists, feminist art historians, and queer theorists, I argue that craft offers a creative praxis through which queer feminists and other cultural bricoleurs can undertake world-making projects that are not organized according to the entwined logics of heteronormative romance and capitalist productivity. By attending to the language of craft, I demonstrate that failure, feeling, and attention to ephemeral materiality can help us ethically assemble ways of living out of unpredictable erotic attachments to whatever is at hand. I also challenge dominant understandings of "politics" that cannot recognize feminine forms of cultural production, such as craft, as vital modes of theoretical and affective labor that reshape our worlds.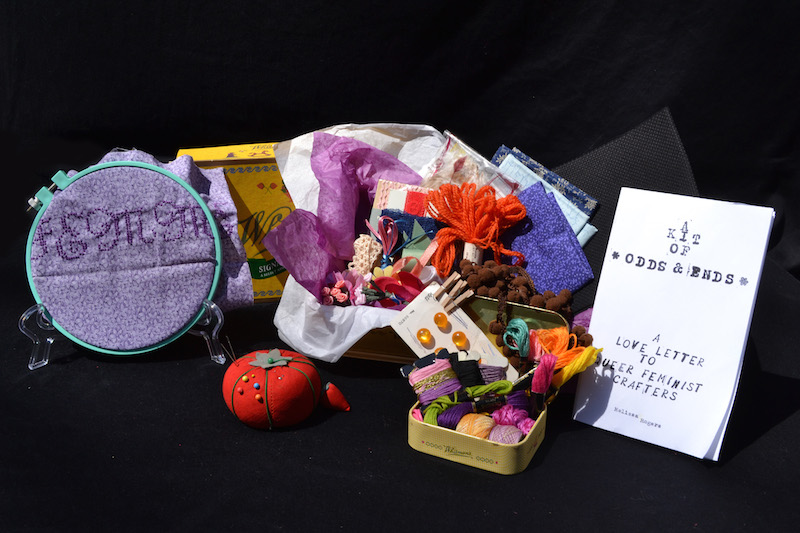 "A Kit of Odds and Ends" includes:
A handmade zine, printed on 8.5 x 14" paper, quarter size, containing: a love letter to queer feminist crafters, instructions with images on how to do cross-stitch embroidery, original patterns of my design for a sampler of queer words and phrases, and blank graph paper for new designs.
One embroidery hoop, size and material variable.
Aida cloth, count and color variable; printed fabric quarters, patterns and material variable.
Two embroidery needles, eight straight pins, and a pincushion.
Four 8.75-yard skeins of 6-strand, cotton embroidery floss, colors variable.
Small packet of notions, contents variable: buttons, beads, fake flowers, ribbon, feathers, lace, trimming, etc.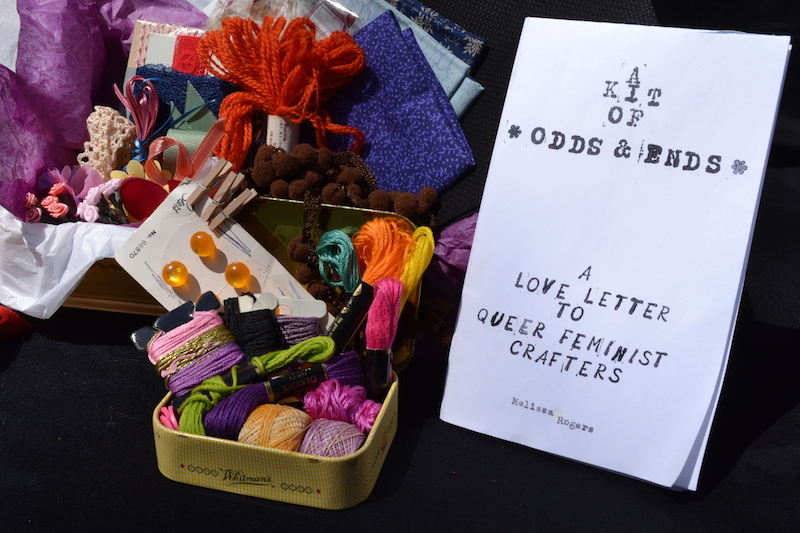 ---
---