Kits for Cultural History
Jentery Sayers
University of Victoria
the Maker Lab in the Humanities (MLab)
University of Victoria
---
Kits for Cultural History, or Fluxkits for Scholarly Communication
The Kits for Cultural History are Fluxkits for scholarly communication.
Fluxkits are "small boxes of inexpensive materials assembled for personal use" made during the 1960s and '70s by George Maciunas, Ay-O, George Brecht, Dick Higgins, Alice Hutchins, Alison Knowles, Carla Liss, Larry Miller, Nam June Paik, Mieko Shiomi, Yoshimasa Wada, Robert Watts, and other Fluxists (Higgins 2002, 34). From a can of beans packed with facts about beans printed on small scrolls fastened with elastic (Knowles 1965), to a nest of thirty-four boxes cut and folded from only two sheets of paper (Shiomi 1965), to contiguous plastic compartments filled with light bulbs and candles (Watts 1972), they are textures of everyday life. Maciunas called them boxed anthologies. He curated, published, and mailed them as "Fluxus Editions," with the first one (1964-65) containing contributions from thirty-nine artists. He branded them, too, designing over sixty labels for various kits: Hutchins's Jewelry Fluxkit (1968), Liss's Sacrament Fluxkit (1969), and Wada's Smoke Fluxkit (1969), for instance. Later, Knowles (2011) said Fluxkits "contradict framed pieces on a wall."
Whatever the description, they are not precious. They are multiples. Their parts can be replaced; they can also be handled by audiences. One may even argue, as Hannah Higgins does, that Fluxkits do not merely represent sensation. They are sensory experiences, blurring distinctions between object and event, material and concept. Echoing Higgins, this blur renders "physical or actual experiences central to the process of signification" (2002, 36). It also refuses the hierarchy of primary and secondary knowledge—of mind and body (2002, 36). Nudging thought through tactile media, Fluxkits become art and amusement at once (Lushetich 2011, 24).
But the Kits for Cultural History are not art, nor do they aim to be. Perhaps they are best understood as small boxes of inexpensive materials assembled for media history. They become arguments and amusement at once. As arguments, they contradict articles in a journal. They fabricate their own evidence off the page for assembly. Or, in scholarly terms, they identify gaps in material culture and prototype the absences for examination. Examples include prototyping early wearable technologies—referred to as "electro-mobile jewelry" during the Victorian period—inaccessible in today's memory institutions.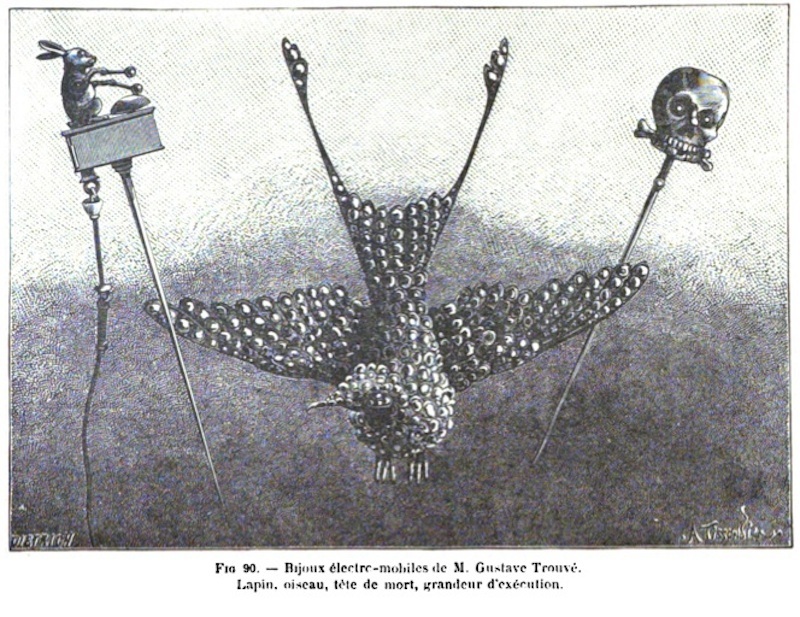 Here, "inaccessible" not only refers to the fact that no Victorian electro-mobile jewelry exists in functioning form (Gere and Rudoe 2010, 213). It also accounts for extant instances of the jewelry, none of which functions, is readily available for handling, or can be fully digitized. Indeed, with early wearables, there are many occlusions. Their interiors are obscured. Parts and wholes are missing. Manufacturing conditions are mysterious. Use cultures are spectral. Mechanisms are found only on paper.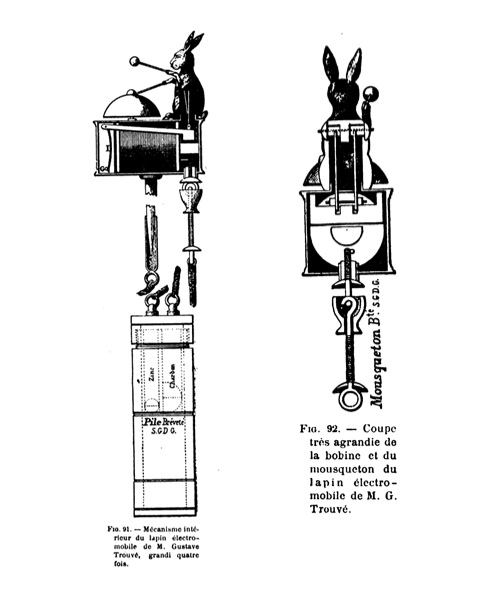 These are absences common to the Kits, which identify what we cannot experience or know for certain, to then prototype speculations about the past. These speculations establish indexical relations with history. They produce a tangible "that" for warranting and reference: tactile manifestations of abductive reasoning and assumption (Peirce 1901, 1955). They are attempts to recover, repair, and re-contextualize the stuff of history.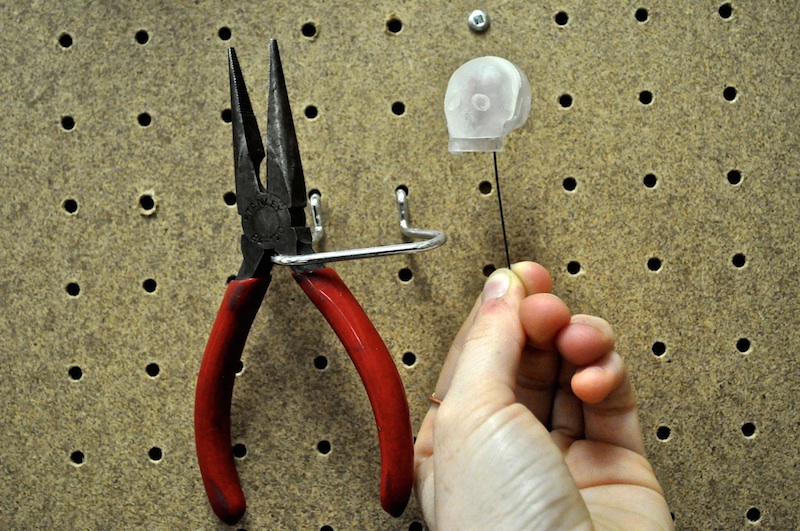 Even when held in hand, these prototypes are conceptual. They are clearly not sourced from from another century. They correspond with the past from the present: three-axis hypotheses without much dust or age. Being prototypes, they are also frozen gestures. They demand a supplement. They invite explanation or addition.
As amusement, the Kits are elliptical in their assertions about culture and history. They divert and distract. They entertain possibilities through procedures, with an honesty about what they cannot prove, capture, or reproduce but are nevertheless willing to conjecture (Kraus 2009, para. 4). They are a touch anachronistic as well, employing today's gadgets to remake yesterday's novelties (Sayers 2015). Examples include the use of computer-aided manufacturing to fabricate components of those early wearables mentioned moments ago. Assembling these components into a functioning prototype becomes a line of inquiry: a series of choices for translating this into that. Even as a process, this assembly is material. To ask "what if?" here and now requires arrangement and memory. Decisions are made, and there is always a setting, with participants and conditions.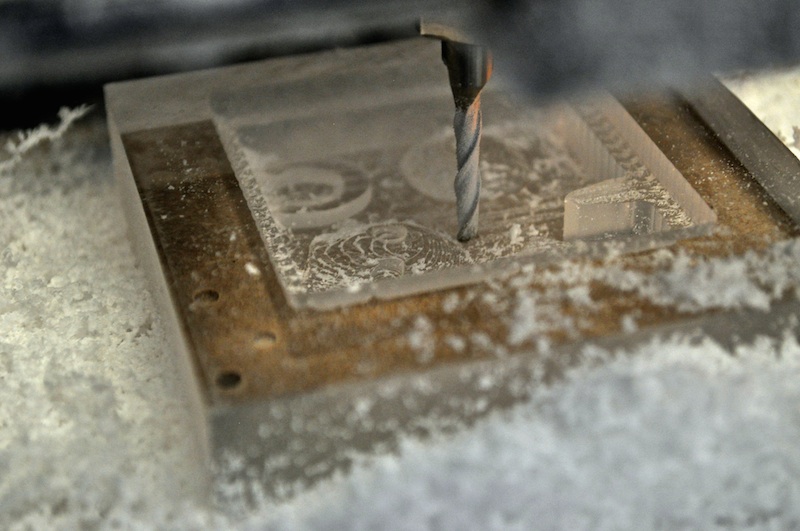 Perhaps most important, with the Kits amusement is not necessarily synonymous with pleasure or play. To ask "what if?" — to entertain possibilities — does not imply blissful ignorance of media history. With the Kits, the appeal of the inorganic (Benjamin 1927-40, 1999) prompts people to consider why what they may not know matters. For whom were early wearables intended? How were they made? What was it like to wear electricity during the 1860s? Why is there so little documentation of these experiences? Why do no early wearables exist in a functioning state today? Did they ever function? What conclusions can be drawn in the face of such lack? What, if anything, can be recovered or repaired? How are we complicit with the history at hand? Even if answers to these questions are uncertain, the Kits afford opportunities for unpacking an argument in between object and event, material and concept, with an investment in doing media history through new media (McPherson 2009, 120).
Below, then, are the key components of the Kits, inspired such as they are by Fluxkits, toward making the inaccessible matter.
A Box
As with any Fluxkit, the Kits are arranged and distributed in tactile boxes, usually made of wood. The wood is laser-cut, and the boxes often have drawers and compartments. Their design is intended to correspond, at least in part, with their time period, their object of inquiry, or both. Thus a box for an Early Wearable Kit may resemble a Victorian jewelry box, or its surface may be engraved with the signature of the wearable's original designer.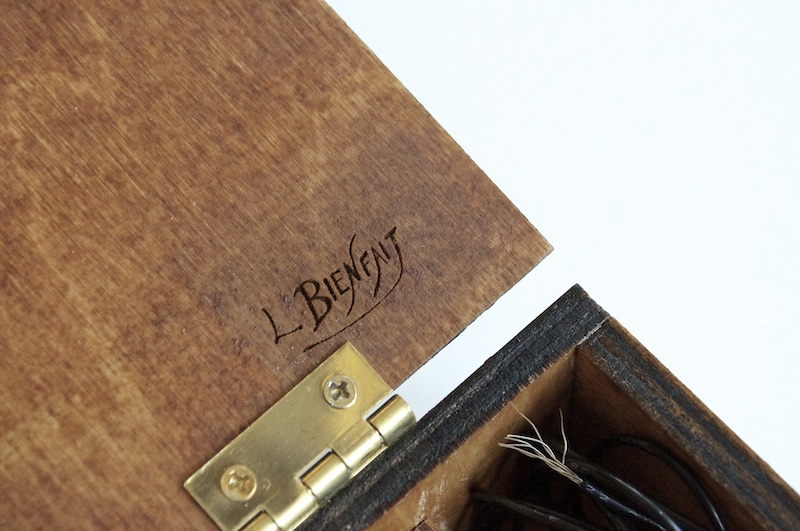 However, the boxes' relation to history is not mimetic. They are not replicas or reproductions. They foreground how the past is interpreted through present conditions, exhibiting history as a collection of refreshed traces, with both loss and gain: a signature is cropped from a digital image of an illustration dated 1863 and then fed through a laser cutter, which burns the Victorian autograph onto birch. Remediation and change are fundamental to this procedure and its transduction of history into Kit form (Bolter and Grusin 1999).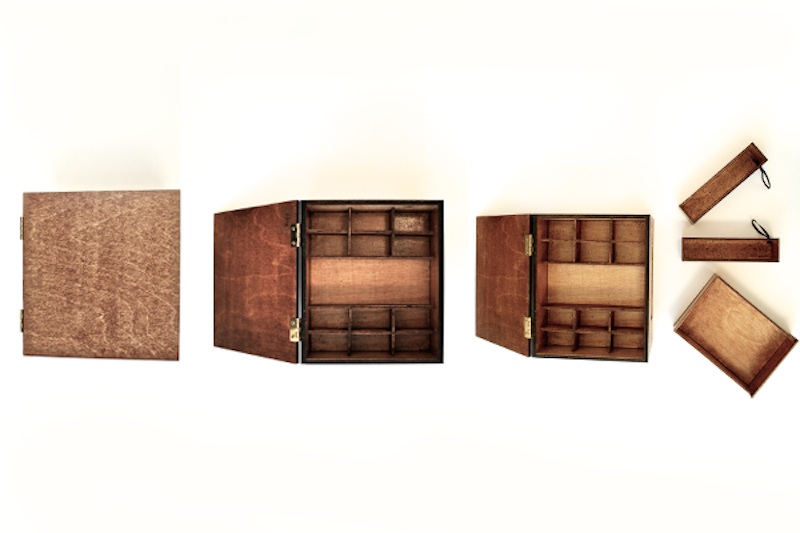 The boxes also draw from the mechanical arts, or from the intersection of function and aesthetics. They are practical. And they are not at all. Resonating with a Fluxus absorption in the everyday, their design is conducive to batch manufacturing. They are meant to be multiples. Yet they structure content deliberately. Images frequently ignored by media studies may be printed, rolled, fastened with elastic, and tucked into a hidden compartment. Or a prototype's component parts may be placed on a box's top tier, above the contextual materials stored in the bottom tier, hinting at what is typically overlooked by historical accounts. As audiences remove these materials and arrange them for interpretation, they may become aware of how the box's design tacitly asserts itself.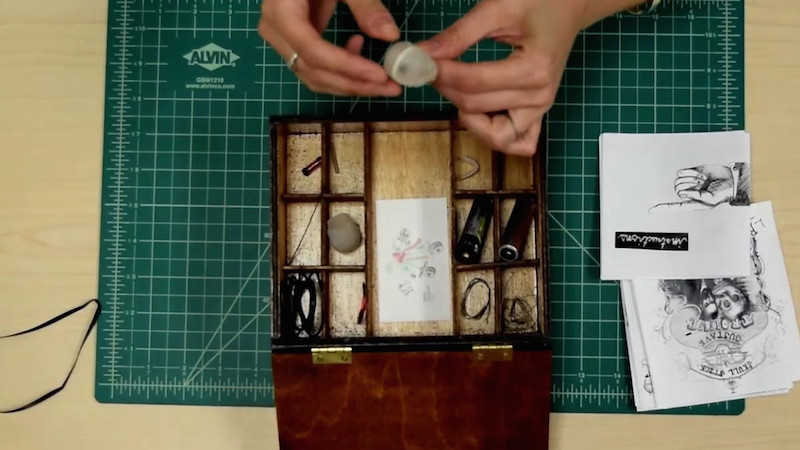 Recalling Dick Higgins's notion of "intermedia," the unpacking process may spark questions such as, "'what that I know does this new work lie between?'" (2001, 53). Between container and essay? Guide and argument? Box and book? This between state destabilizes the default states of materials in a given Kit, resisting the efficiency, optimization, and comprehensiveness associated with modular, "kit-of-parts" construction, where the parts are treated as discrete components of a coherent system with a defined purpose that is often represented through a 3-D model (Perner-Wilson 2011, 6).
As arguments, the Kits declare the history at hand is incomplete. Hidden compartments point to absences in the scholarly record, implying more omissions exist somewhere beyond the container. A signature burnt into a lid refreshes traces of its author, who is no longer with us. A prototype arrives in multiple parts insinuating various versions. With the box, there's a message: "This is not a replica." Again, the goal is not exact reproduction (Elliott et al. 2012, 127). Material absences in archives and collections are featured, and—as with Fluxkits—the gaps can be left alone, interpreted, questioned, or repaired.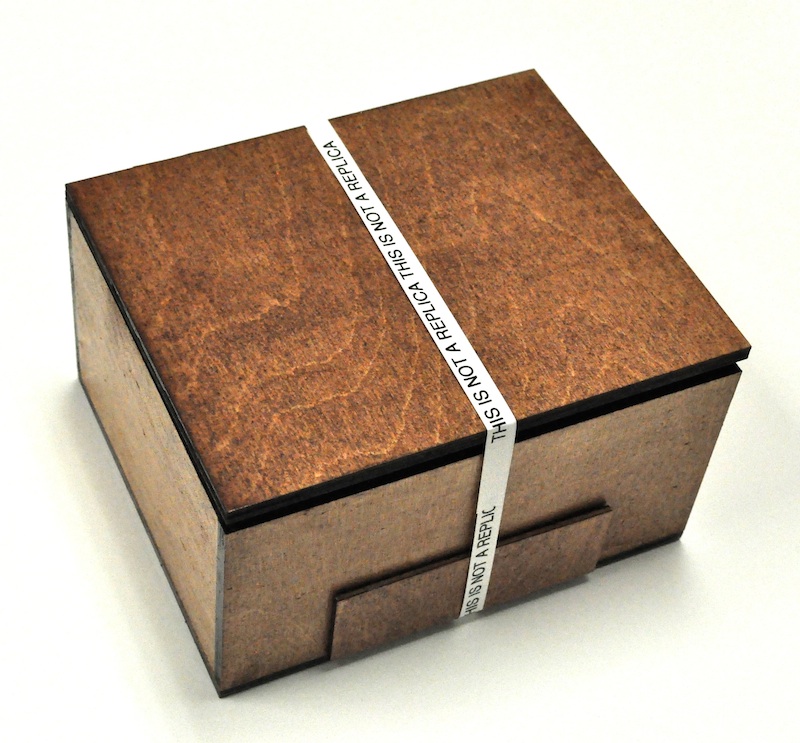 A Prototype
With the Kits, repair is intertwined with prototyping. Each box includes a prototype in tactile form. Every prototype is provided in duplicate: one version is assembled, and the other is not. This way, audiences see and handle a prototype in distinct iterations, and they make decisions related to assembly. Aside from materials such as wire and batteries, all component parts are made specifically for the Kits using a blend of manual and computer numerical control (CNC) tools. Popular materials for manufacturing include acrylic, foam, wood, paper, and biodegradable thermoplastic. Often, a Kit contains several prototypes of the same mechanism. For instance, one early wearable piece may assume four different versions in a single Kit.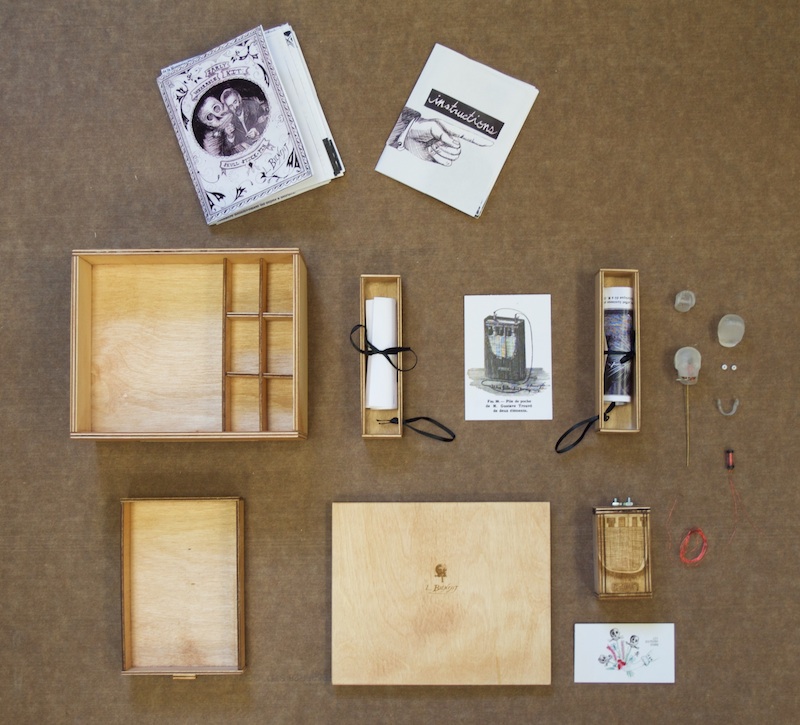 Versioning old media underscores how objects could have manifested differently, in ways that frequently escape documentation, illustrations, patents, reviews, and mass production. To variously articulate component parts is to demonstrate how technologies are constructed, replete with editorial decisions, and subject to change and alteration over time. Versioning also emphasizes how objects are congealed processes: decisions that facilitate and impede more decisions; labor conducive and resistant to more labor.
In the Kits, matter cannot be abstracted from situated practice. Rehearsing the Fluxist critique of the disembodied eye, hand, and ear, the prototypes assert the role embodiment plays in interpretation. Returning for a moment to Hannah Higgins, the Fluxkits "[offer] a primary experience of matter as art" (2002, 37). Like other Fluxus work (including Fluxfilms), Fluxkits "locate the eye with the human body, with all its motility and sentience," while relying on neither "scopic unity" nor "experiential chaos" (2002, 25). Similarly, the Kits distribute sensory experiences across media and through design. Their components do not add up or cohere, and the combined presence of assembled prototypes and contiguous parts gestures at possible paths through the material.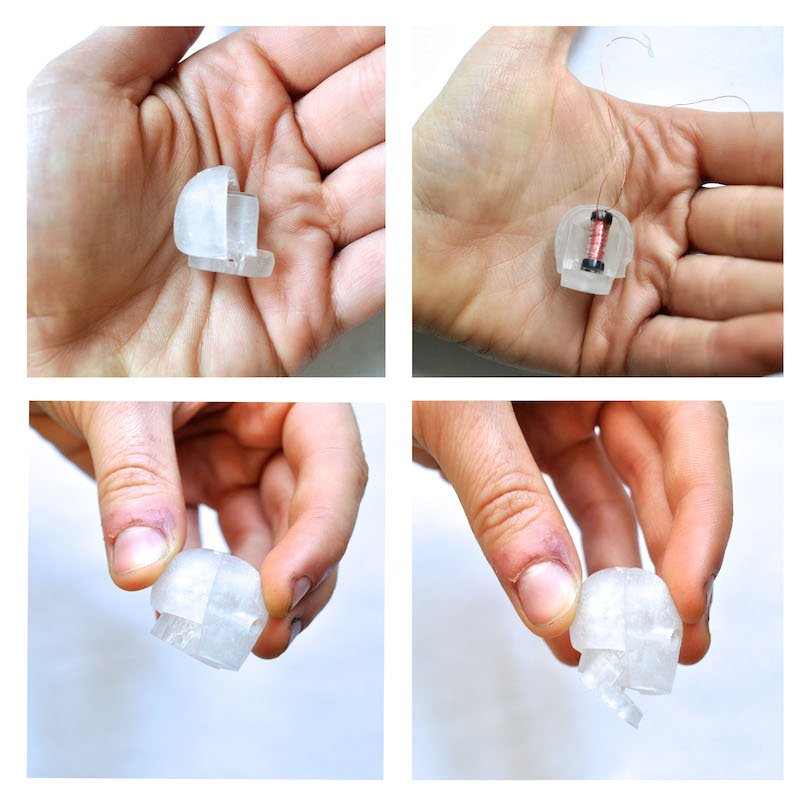 Ideally, these gestures remind audiences they are embodied, and that they make embodied decisions as they unpack and remember media history. Such a reminder does more than lay bare the device. It encourages participation or even intervention, which need not be framed romantically, as some authentic or transcendent experience (2002, 58-59). Instead, prototyping is simultaneously social and personal. As multiples anchored in everyday materials, the Kits highlight shared experiences: common assumptions about, for instance, what art, craft, jewelry, technologies, culture, and history should do or signify. As boxed anthologies prompting assembly, they stress differences across situations and settings. Interpretations of the prototypes will inevitably vary. Approaches to assembly will never be uniform. Criticisms of the Kits will emerge from an array of perspectives and pressure points.
The Kits' emphasis on social and personal experience refuses to essentialize "the user." It also recognizes that media history is not somehow outside power and ideology. After all, material culture is fundamental to reproducing values and shaping perception. Drawing but one example from an Early Wearable Kit, media scholars must ask not only why and under what assumptions electro-mobile jewelry appealed to different people but also how jewelry was interwoven—as instrument, symbol, protocol, labor, and commodity—with norms during the 1860s. Attending to these entanglements of politics with aesthetics renders any examination of matter an event irreducible to either individual experience or finished product. Put this way, the Kits are inspired by Laura Devendorf and Daniela K. Rosner, who conclude that "designs for 'making' can address a much broader set of concerns than what's made" (2015, 565). This broader set can include concerns about objects as processes and social relations, and it can direct scholarly attention to the role prototyping may play in repairing, recovering, conjecturing, and interpreting media history as more than an object of inquiry: as knowledge that is made and constantly remade.
A Model
Almost every tactile component in a Kit also exists as a 3-D computer-aided design model (OBJ), a 3-D computer-aided manufacturing file (STL), and toolpath instructions for machining (G-code). Via GitHub, these files are circulated online for discovery, downloading, forking, editing, and fabrication. This approach across formats and media means the Kits can be delivered online as well as by post. It also means a single component can be replaced and expressed in a variety of materials, including wood, metal, acrylic, foam, plastic, and paper. All files in a Kit carry a Creative Commons BY NC license. They can be shared and adapted in any medium or format assuming attribution is given and the adapted material is not used for commercial purposes.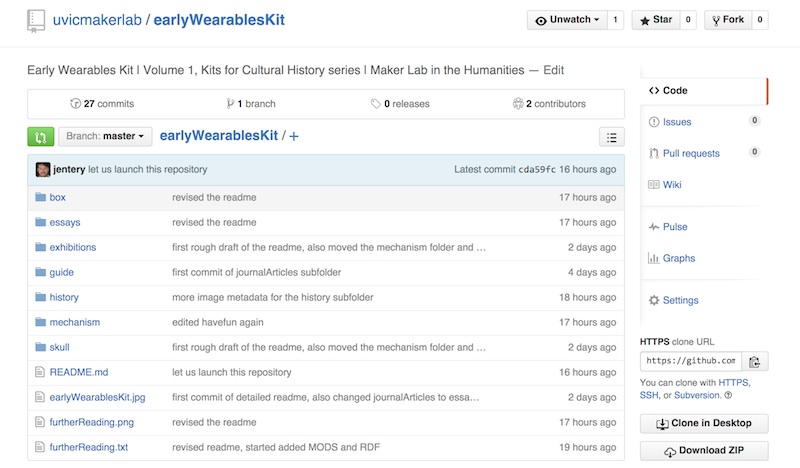 Some of these models are born-digital. For instance, all components of a box may be designed in Rhinoceros 3-D and then cut with a laser. Other models are products of digitization. For example, parts of a prototype may be carved from wood and then measured using a structured-light 3-D scanner, which outputs an object file viewable on a computer screen.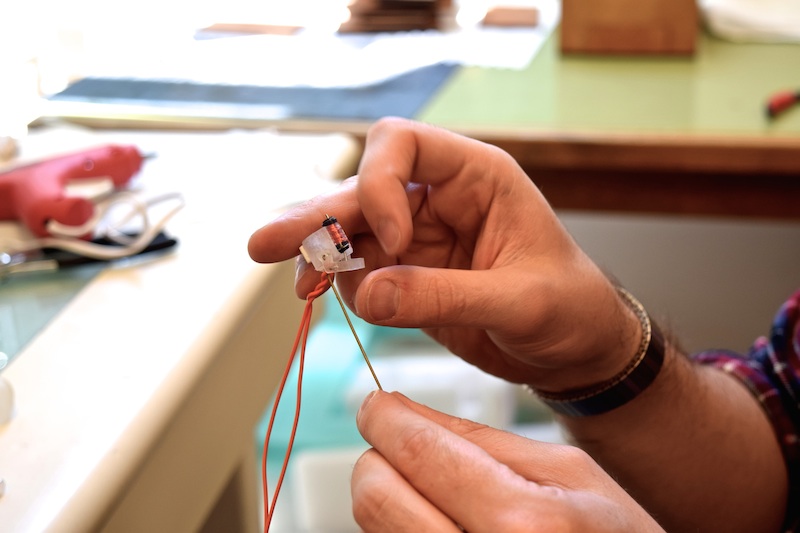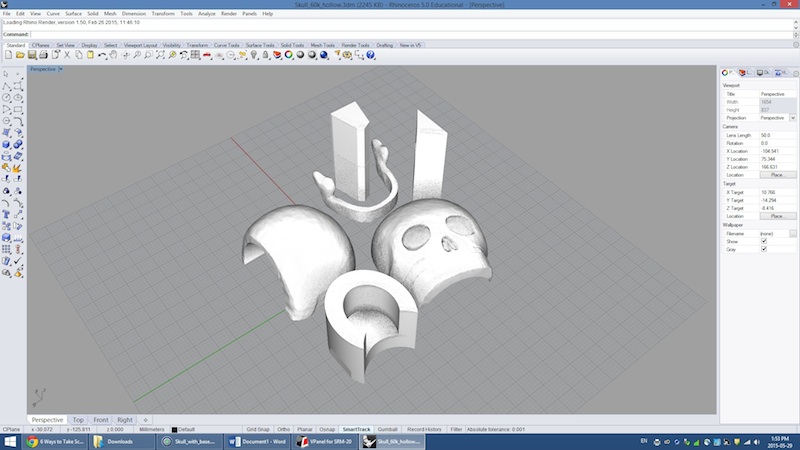 But the movement between bits and atoms is the most interesting aspect of modeling in the Kits. Digitized objects can be edited prior to fabrication. Surfaces can be smoothed, resolutions degraded, forms exploded, meshes decimated, and sizes altered, always with options to undo and automate. Meanwhile, born-digital objects can be altered after fabrication, by both hands and machines. They can be polished, stained, filed, filled, routed, glued, and joined. These changes in the material properties of a Kit's components correspond with how they are perceived on and off screen. With the Kits, audiences can observe how objects shift between material states: from wood on a table to a model on a screen to instructions for a machine to acrylic in hand. Audiences can also note how certain states are conducive to particular modes of perception. For instance, design software such as Rhinoceros 3-D affords incredibly detailed views of objects that contain millions of polygons. Zooming in to see objects with such detail is not unlike using a microscope.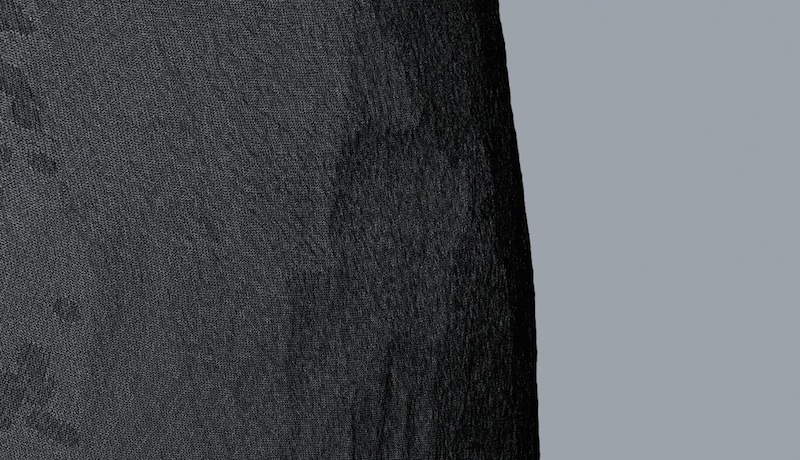 With these views, people can discretely edit and manipulate objects through techniques impossible to achieve by hand. However, the modeling process cannot be flattened to what appears on screen. The tactile existence of objects is essential to handling and assembling prototypes in a Kit. It is difficult to know whether digital models fit together, or whether they are resilient, unless they are fabricated. Indeed, there is often a link—however reliable or socially constructed—between trust and tactility.
If Fluxkits complicate framed pieces on a wall, then the Kits for Cultural History complicate framed objects on a screen. Not only do they distribute their component parts through numerous formats and channels: the post, the online repository, the box, the file. They also demonstrate why media history is never purely digital, or never purely visual. It is multimodal and intermedial, an iterative process of this becoming that (Fuller 2005, 85).
A Supplement
In the Kits, boxes, prototypes, and models are not standalone objects. Even if they make arguments, they demand supplementation. They are accompanied by images—printed but also published online—offering historical context: illustrations, photographs, and figures from patents. These images are additive; they give the inaccessible a sense of for whom, by whom, and when.
Yet they are also explained, in part, by a guide accompanying a Kit's components. Somewhere between a grangerized book, a zine, and an academic essay, the guide is glued and stitched together. For immediate discovery, it is usually placed directly underneath the lid of a box. For circulation online, it is rendered into a series of page images compiled in portable document format (PDF). The content is handmade and xeroxed, with a collage aesthetic. It is also punctuated with keyword entries (Williams 1976). In the case of an Early Wearable Kit, these keywords include "mourning," "gender," "miniature," "class," "performance," and "electromagnets." With references to primary and secondary source materials, each keyword situates early wearables in history and culture, detailing how they were made, received, worn, exhibited, and articulated with social norms and cultural protocols.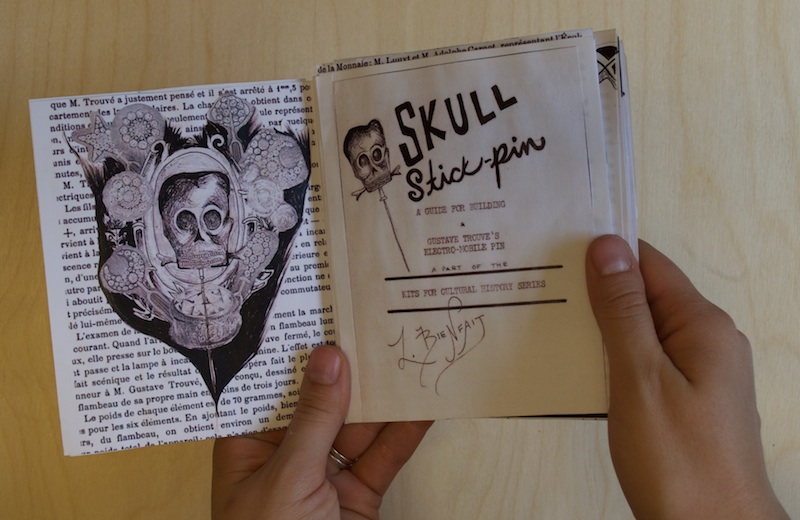 As with the balance of a Kit, the guide is purposefully incomplete. It is not a total account. It is a series of stress points: ways of variously perceiving and interpreting the prototypes at hand.
Following Celia Pearce (2006, 68), we might call the Kits acts of accidental theory. Instead of starting with a program, supporting it, and ultimately proving it, the Kits present a collection of positions and components for material inquiry. Though conjectural, this presentation may serve the purposes of repair and recovery, prompting attention to absence and omission. In this sense, the Kits echo a Fluxist performance score for conducting an ordinary event. They do what they can to make the banal interesting to audiences, somewhere in the middle of demystification and immersion. This echo reverberates through assembly instructions nested inside a given guide to a Kit.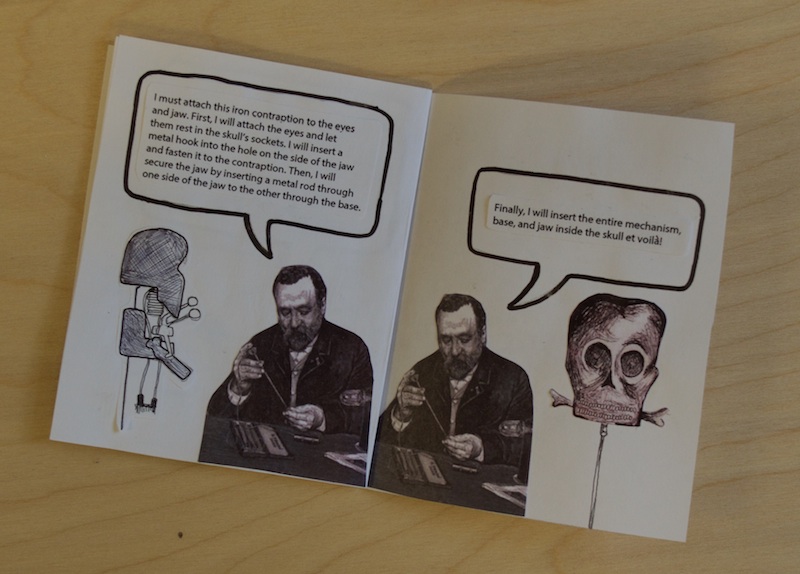 To be sure, instructions are a touchy topic in media history. On the one hand, they risk determinism by telling audiences exactly, step by step, how something should be made. They are against interpretation. They are mechanisms for mansplaining. On the other hand, they can reflexively communicate tacit knowledge to potentially interested audiences, who have the agency to follow them completely, in part, or not at all. Either way, they are value-laden, biased, and pedagogical. With the Kits, instructions acknowledge this tension, questioning their own authority while noting when and why they are speculating about history. They stress multiple approaches to the same prototype together with the possible effects of those approaches. But most important, they encourage conjecture and process instead of proof and product. They run suspicion of the past through trial-and-error testing. What if historical materials are embellished or unreliable? What if this technology is actually a fiction? Was that mechanism actually built this way? What happens if we try to repair what ostensibly worked then, but no longer does now?
Collectively, the boxes, prototypes, models, and supplements in the Kits are — following Karen Barad (2007) — entanglements of discourse with materials, events with entities, concepts with mechanisms. Instead of assuming that media history is over there, to be discovered and dissected, they suggest it is constantly remade, with similarities persisting and differences emerging along the way. Agencies of matter and meaning are constituted at once, "made together" (2007, 168).
---
Acknowledgments
Since 2013, the following people have contributed to the Kits project in the Maker Lab in the Humanities at the University of Victoria: Nina Belojevic, Tiffany Chan, Nicole Clouston, Laura Dosky, Devon Elliott, Katherine Goertz, Jonathan O. Johnson, Shaun Macpherson, Kaitlynn McQueston, Danielle Morgan, Victoria Murawski, Jentery Sayers, and Zaqir Virani. The Maker Lab also received feedback on the Kits from Edward Jones-Imhotep, Kevin Kee, Kari Kraus, and William J. Turkel. The Social Sciences and Humanities Research Council, Canada Foundation for Innovation, and British Columbia Knowledge Development Fund have supported this research.
---
Works Cited
"Alison Knowles Discusses the Fluxkit." New York: N.p., 2011. Film.
Barad, Karen. Meeting the Universe Halfway: Quantum Physics and the Entanglement of Matter and Meaning. Durham: Duke U. P., 2007. Print.
Barral, Georges. Histoire d'un inventeur; exposé des déscouvertes et des travaux de m. Gustave Trouvé dans le domaine de l'électricité. Paris: G. Carré, 1891. Print.
Benjamin, Walter. The Arcades Project. Ed. Rolf Tiedemann. Trans. Howard Eiland and Kevin McLaughlin. Cambridge, MA: Belknap P., 1999. Print.
Bolter, J. David, and Richard Grusin. Remediation: Understanding New Media. Cambridge, MA: The MIT P., 1999. Print.
Devendorf, Laura, and Daniela K. Rosner. "Reimagining Digital Fabrication As Performance Art." Proceedings of the 33rd Annual ACM Conference Extended Abstracts on Human Factors in Computing Systems. New York, NY, USA: ACM, 2015. 555–566. ACM Digital Library. Web. 18 May 2015. CHI EA '15.
Elliott, Devon, Robert MacDougall, and William J. Turkel. "New Old Things: Fabrication, Physical Computing, and Experiment in Historical Practice." Canadian Journal of Communication 37.1 (2012): n. pag. Web.
Fuller, Matthew. Media Ecologies: Materialist Energies in Art and Technoculture. Cambridge: The MIT P., 2005. Print.
Gere, Charlotte, and Judy Rudoe. Jewellery in the Age of Queen Victoria: A Mirror to the World. London: British Museum P., 2010. Print.
Higgins, Dick, and Hannah Higgins. "Intermedia." Leonardo 34.1 (2001): 49–54. Web.
Higgins, Hannah. Fluxus Experience. Oakland: U. of California P., 2002. Print.
Hutchins, Alice. Jewelry Fluxkit. 1968.
Knowles, Alison. Bean Rolls. 1965.
Kraus, Kari. "Conjectural Criticism: Computing Past and Future Texts." Digital Humanities Quarterly 3.4 (2009): n. pag. Web.
Liss, Carla. Sacrament Fluxkit. 1969.
Lushetich, Natasha. "Ludus Populi: The Practice of Nonsense." Theatre Journal 63.1 (2011): 23–41. Web.
McPherson, Tara. "Media Studies and the Digital Humanities." Cinema Journal 48.2 (2009): 119–123. Web.
Pearce, Celia. "Games as Art: The Aesthetics of Play." Visible Language 40.1 (2006): 66–89. Web.
Peirce, Charles S. Collected Papers. Ed. Charles Hartshorne and Paul Weiss. Cambridge: Harvard U. P., 1955. Print.
Perner-Wilson, Hannah. "A Kit-of-No-Parts." Thesis. Massachusetts Institute of Technology, 2011. «http://hdl.handle.net/1721.1/67784» Web. 3 Oct. 2015.
Sayers, Jentery. "Prototyping the Past." Visible Language (forthcoming, 2015).
Shiomi, Mieko. Endless Box. 1965.
Wada, Yoshi. Smoke Fluxkit. 1969.
Watts, Roberts. Light Fluxkit. 1972.
Williams, Raymond. Keywords: A Vocabulary of Culture and Society. New York: Oxford U. P., 1976. Print.
---
---